exclusively Nilgiris
GavaTea's specialty are exclusive teas from the Nilgiris region of Southern India. We work directly with the tea farmers and producers and source fresh and authentic speciality teas in season.
We don't use middle men and personally taste and blend our teas. We ensure our teas are always fresh by sourcing and shipping in small batches. The freshest tea has the most flavor and delivers the most health benefits.
why GavaTea?
The word "gava" originates from the Badaga tribal community in the Nilgiri Hills of Southern India. "Gava" means "love" or "caring", which perfectly describes the essence of the tribal people. Badagas are known for their unique customs, incredible hospitality and a century-long tea growing tradition. Guests are always treated with great respect and – you guessed it – a cup of chai. At GavaTea, we invite you to experience the unique culture of the Nilgiris and to share our love for its tea, land and people.
learn more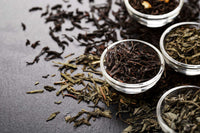 what our customers say
The teas are always fresh, unique and delivered on time.

Robin H.
Great products and exceptional customer service 

Matt K.
The best selection of Nilgiris teas outside of India.

Anu V.
Check out this informative interview with Heather Fruzetti at Stronger Longer. We chat about the dos and don't of brewing tea, health benefits for your immune system, thyroid and more